2014 World Teachers Day Selfie Competition Winner!
31 Oct 2014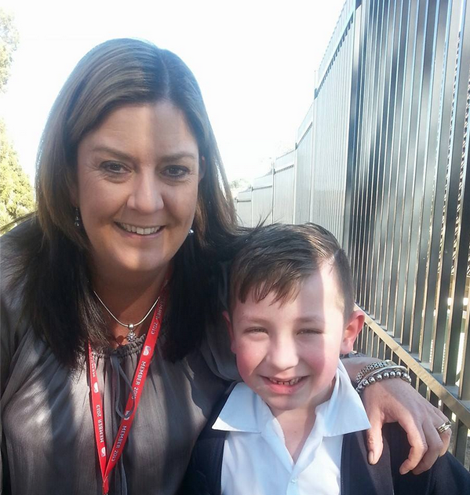 Hundreds of students across the Diocese of Parramatta have honoured their teachers in celebration of World Teachers Day by taking a selfie with their favourite teacher.
As part of the Take a Selfie with your Teacher competition, students have sent in photos with a tribute honouring their teachers and thanking them for their many contributions.

After careful consideration by a panel of judges, Cooper Lee from Year 1 at Holy Family Primary, Emerton has been selected as the winner! Cooper sent in a selfie with his Reading Recovery teacher, Mrs Wilma Clenton. 'My teacher is the best because she is loving, patient, caring and makes me smile,' said Cooper. 'She makes me feel confident and proud of my efforts.'

Cooper's mother Jennifer praised Wilma for her dedication and commitment. 'Cooper's confidence and dedication to his work at school has changed dramatically because of Wilma with her caring and loving nature,' said Jennifer. 'We cannot thank her enough for what she has done for our little boy.'

Wilma was thrilled to find out that she had been nominated as a finalist, and then the winner of the competition.

Acting Principal Mary Kelly was delighted to receive the news saying Mrs Clenton was a champion of her children.

'Mrs Clenton is a marvellous Reading Recovery and Extending Mathematical Understanding (EMU) teacher who simply loves teaching and is always brimming with new ideas,' said Mary. 'She gets so excited when her students make progress.' 'It is nice that we have World Teachers Day to acknowledge all their hard work. Teaching is much more than a 9 - 3 job with so much behind the scenes work that no-one knows about,' Mary said.

Judges were impressed by the high calibre of entries and the overwhelming number of positive comments and responses from our school communities.

Annalise Awkar and her Year 10 classmates at Catherine McAuley Westmead were recognised with a 'highly commended' award for their selfie with Mr Small who has been a teacher for 50 years and will be retiring at the end of this year. The photo received over 600 likes on facebook and a long stream of wonderful comments commending Mr Small.

Visit the CatholicEdParra facebook page to see all the finalists.

World Teachers Day is celebrated each year to thank teachers for the outstanding work they do each and every day for the children in their care.