2014 World Teachers Day celebrations at St Monica's Primary
31 Oct 2014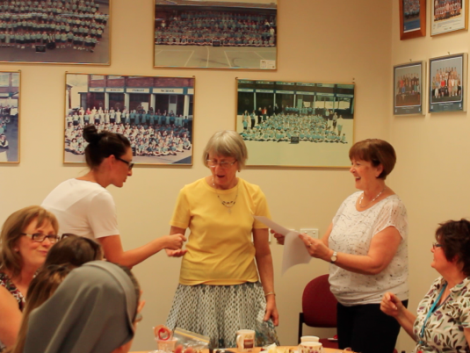 Teacher Leona Sweeney was recognised for over 35 years of service to Catholic education at the World Teachers Day morning tea celebration Teachers at St Monica's Primary, Parramatta North were surprised with a special thank you from appreciative parents this week in celebration of World Teachers Day (31 October).
Teachers were given a ten-minute break from class to enjoy an express massage or manicure provided by the talented parents of St Monica's Primary. They also organised and catered a thank you morning tea held at recess. The day was organised by parent Vanessa Talty who said that all the teachers and staff at St Monica's are committed to the children in their care.

'We just wanted to say thank you to the teachers at St Monica's with a bit of time for pampering and relaxation,' said Vanessa.
Parent Camille Sloane said that the learning community at St Monica's is very supportive and that the connection between parents and teachers is a strong one.

'Our teachers work very hard and I'm very happy to support them in celebration of World Teachers Day,' said Camille.

Leona Sweeney, who teaches Music and works with students with special needs, was recently recognised for 35 years of teaching service in Catholic education. She said it is a memorable moment in her career.

'In all my years teaching I have never ever had parents that have wanted to do something like this,' said Leonie. 'It's absolutely wonderful and it shows what a lovely school community we have here at St Monica's.'

Teacher Denelle Gardoni said it was an unexpected surprise but wonderful to know that parents are so appreciative.

'When I got to school this morning it was announced that our wonderful parents were coming in today to surprise us with some pampering,' said Denelle. 'It's been great to have a little relaxation break and we're all very grateful to the parents for organising this today.'

St Monica's Principal Louise O'Donnell said it is important to recognise the hard work of teachers because teaching is a ministry of service, of dedication and passion.

'We are blessed here at St Monica's to have a wonderful group of teachers and staff who work extremely hard for the children in our care every day,' said Louise.

Students at St Monica's shared their thoughts about why their teachers are great in a short video produced on the day.