2015 St Monica's get political using project-based learning
02 Jul 2015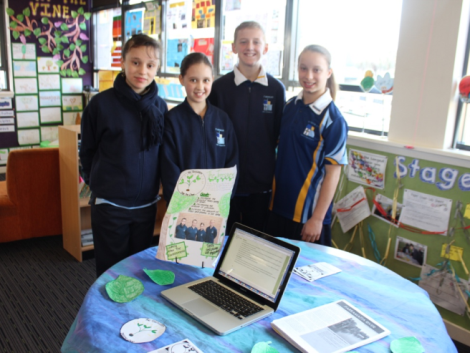 The Tree Savers party - Brooke Emphield, Jordan Crockett, Patrick Newey and Hayley Herder-Beke


St Monica's Primary, North Parramatta Stage 3 students worked on term-long projects to present to their parents and peers in Week 10 as part of their project-based learning (PBL) approach.
In Term 2, students in Years 5 and 6 were asked to create a political party and develop a political campaign to identify and address the needs of the local community.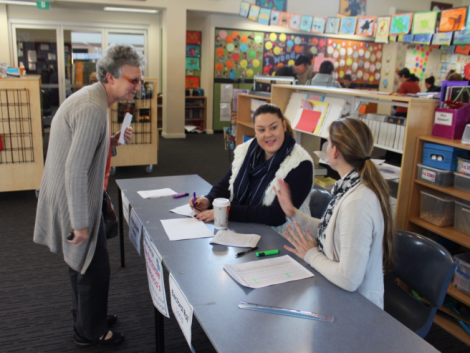 Locals get their name checked off before voting

On Wednesday 24 June, parents and peers were welcomed to the school with students handing out flyers to promote their political parties and campaigns. After registering their 'vote', members of the community walked around to each party and asked questions about the campaigns, messages and plans for the future. Students shared their messages using a range of materials including flyers and presentations on computers. Parents had the opportunity to vote for the political party they thought would best fit the needs of the 'electorate' of St Monica's at the polling booth.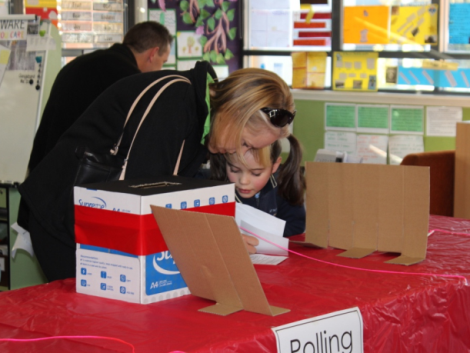 After listening to campaigns, locals voted in the polling booth
The 'Tree Savers' party consisting of students Hayley Herder-Beke, Patrick Newey, Jordan Crockett and Brooke Emphield, felt that the environment, specifically around the number of trees being cut down and the amount of pollution in the Parramatta River, was an area of need to be addressed in the St Monica's electorate.

Stage 3 teacher Kellee Bagnall said that students were inspired by an excursion they took to State Parliament in early June.

'The students were given the opportunity to see how real political parties function and the work involved in putting campaigns together,' Kellee said. 'The excursion also taught them a lot about democracy.'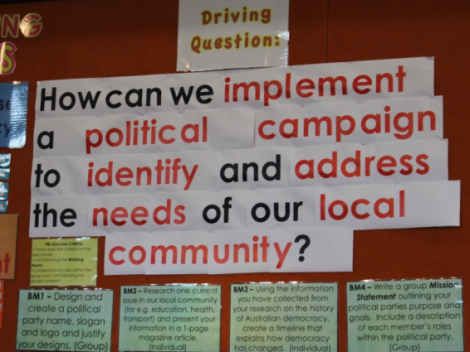 The driving question for the term
Stage 3 teacher Michelle Rosewell said the project benefited the students by teaching them 21st century skills.

'This experience taught them to work in collaboration and see the benefits of being in charge of their own learning,' Michelle said. 'They have all stepped up with their learning and it has allowed the learning to really drive their work.'