2018 Positive behaviour creates great learning
01 Nov 2018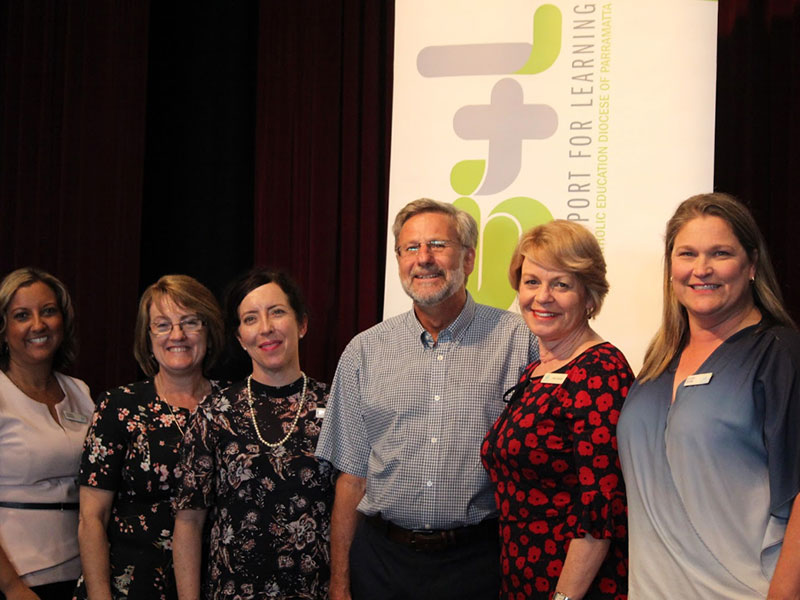 Catholic Education Diocese of Parramatta clinical psychologist Anoushka Houseman with school leaders and Dr Tim Lewis at the conference
Catholic Education Diocese of Parramatta (CEDP) school leaders and teachers were given a special opportunity to expand their knowledge of Positive Behaviour Support For Learning (PBS4L) when Dr Tim Lewis, Professor of Special Education at the University of Missouri, shared his research with them recently.
Dr Lewis has been involved in special education for 30 years and has worked directly with school teams around the world. He is a frequent contributor to the professional literature examining how Positive Behaviour Support (PBS) improves student learning.
CEDP clinical psychologist Anoushka Houseman said the principles of PBS4L have already been embraced by many schools in the Diocese.
"When we announced Dr Lewis was coming to speak with our principals and teachers, the response was fantastic. He is viewed as a worldwide expert of PBS4L!" Mrs Houseman said.
A key principle of PBS4L is that we cannot make students learn or behave, but we can create an environment to increase the likelihood that they will learn and behave.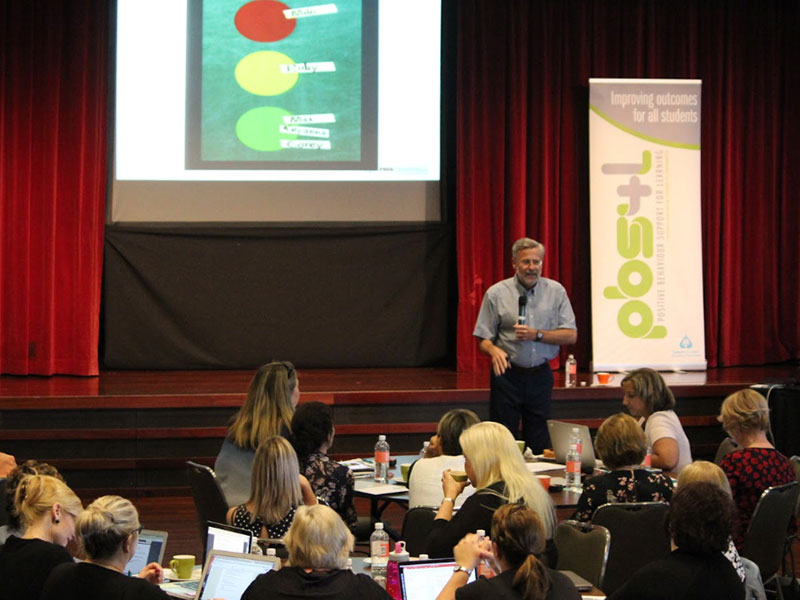 Dr Lewis emphasised that teachers need to focus on professional development to build team/school "expertise" and that the school system needs to support this. He stressed the need to "organise skill-based staff development" to teach practices that take into account students' social learning history.
"Positive social behaviours need to be explicitly taught and students need to get constructive and supportive feedback around both their behaviour and academic learning,'' Dr Lewis said. "What's more, the systems and practices within the school must be guided and informed by the school data. When all these parts of the framework are in place, the research shows that student and staff wellbeing, school climate, attendance and academic outcomes are all improved,'' he said.
He encouraged teachers to ask themselves the question: `Is your school a place where you would want your own child to attend?'
Our Lady of Mount Carmel Wentworthville assistant principal Olimpia Pirovic said the conference affirmed the teaching that is already happening at her school.
"It is also showing me through a new lens how we can enhance the outcomes for our kids,'' Mrs Pirovic said.
St Monica's Primary North Parramatta Religious Education Coordinator Michelle Rosewell said the school was in its third year of implementing PBS4L and it has been well received.
"We have seen a lot of improvement with behaviour and data has shown an increase in student attendance,'' Mrs Rosewell said.
St Joseph's Primary, Kingswood Year 2 teacher Kathleen McNally said St Joseph's implemented PBS4L this year and has found the approach made sense.
"PBS4L is providing clarity when it comes to managing behaviour in our students," Mrs McNally said. "We now all use the same positive language the students understand and there is consistency. We have already been able to see positive changes.''
Dr Lewis ended his conference by emphasising the need for families to be involved in the process, and to "celebrate the successes!'' In fact, members of the Parent Representative Council (PRC) attended the conference too and were very positive about what they heard.